It's not just for children, everyone can enjoy MAGIC!
---
Looking for something for the adults?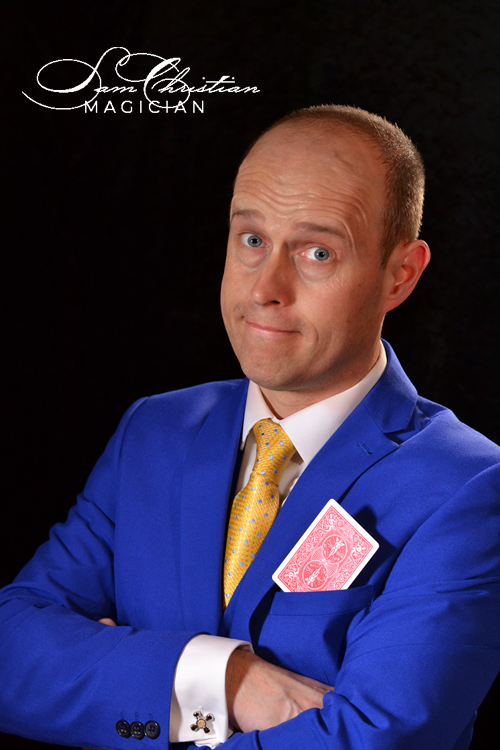 An amazing wedding magician.
Sam has been entertaining as a wedding magician, when the speeches are in full swing, for many years. Leaving everyone to enjoy the best man's jokes without fear of the children repeating them in the playground!
Sam is also a close up magician. He can entertain your adult guests as well as the young ones.
He will dazzle your guests at their tables in between courses, during coffee and the evening.
So get in touch now to discuss how Sam can help your day become even more special.
The 'Leave it to Sam' wedding magician package:
Everything can be tailored to your special wedding day, but here is an example of what you could have.
Sam will start entertaining at the reception venue, he will be ready to meet and greet the children and adults with Duncan the dragon!
After which he can make balloon models for all the children as the wedding photographer goes to work.
Then it is time for the speeches. Sam can take the children to another room (with adult supervision) and perform a magic show, so the children don't have to listen to uncle "Bob" talk about the stag do!
Sam will only take one wedding booking a day so that he won't have to rush off. Although all weddings are planned to the minute, he likes to make sure he doesn't have to leave bang on time just in case things run a bit late.
Sam can offer family entertainment for your corporate event.
Including balloon modelling, magic shows, walk around meet and greet. Sam can also perform close up magic for your client's. They can be seated or wandering about, Sam can deal with it all.
Sam is at his best when you need to draw in the crowds at family events.
For example, you want people to look at your Cars at an event. Sam can draw in the children with balloons and a magic show, and who follows? Their parents of course, and then it is down to you.
Sam can also provide a professional P.A. system to create the right atmosphere for your event.
Make an enquiry
To book Mr. Sam all you need to do is fill in an enquiry form and Sam will get back to you with a quote. It is as simple as that.
Once a booking has been confirmed all you need to do is pay a small deposit via Paypal or bank transfer. And the balance can be paid on the day.
You will receive a letter of confirmation via email with all the details.