I am always being asked if I do party bags for the children. The honest answer is I don't.
That's why I put together this great alternative to party bags!
I can provide you with an incredible magic pack to give to each of the children. Each pack has a magic wand and instructions for 4 really exciting tricks that the children will be able to show one another.
The best part? You don't even have to think about it. I will provide all the magic packs for you.
So, for just £1.50 per child, you can be sure that there will be smiles all round.
You pay for the ones you actually use! No waste.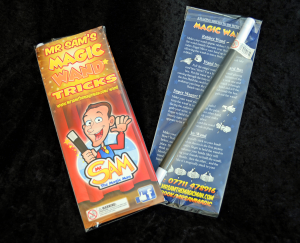 I do this because I remember how I started in magic as a child and I'd love to inspire other children to take up magic. I'm so keen to get the children learning magic I will include exclusive access to my Magic School!
The children will be professional magicians before you know it!
So for just £1.50, you'll be able to provide each child with a wand with 4 super cool tricks they can do straight away, they'll also get access to my exclusive Magic School!

And because you'll only pay for what you use you know that you won't be stuck with loads of party bag items for years to come!
Let me know how many magic packs you think you'll need and I'll be sure to bring them along with me to the party.